Eisenhower High School


Class Of 1978
In Memory
Amy Durado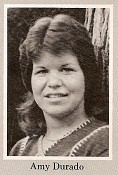 This is all that can be found in regards to Amy passing.
Name:
Amy Jo Durado
State of Issue:
Washington
Date of Birth:
Wednesday November 04, 1959
Date of Death:
Sunday December 07, 2008
Est. Age at Death:
49 years, 1 months, 3 days
Confirmation:
Proven

Last known residence:


I remember Amy, who was in many of my classes. She surprised me my senior year by announcing she wanted to be a funeral director. In high school, to me, that seemed a strange occupation to pick. As an adult I see it more as an occupation of compassion. Again, if you knew Amy please share your memories.