Eisenhower High School


Class Of 1978
In Memory
Benji Burton VIEW PROFILE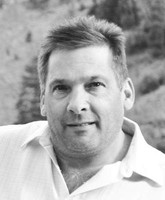 Yet another passing of a Cadet. Please post your memories of Benji. Below is the obituary from the Yakima Herald.
YAKIMA - On Tuesday December 17, 2013 our wonderful friend Benji Burton was reunited with his parents, grandparents and nephew as heaven opened their gates, throwing him the biggest welcome home party ever.
Benji entered this world the same way he left it: Fighting and way too soon! Born months early, on October 13, 1959 weighing only 2 1/2 pounds, Benji beat the odds. Doctors told his parents Arnold "Jay" and Vivian Burton that his chances of survival were slim.
Benji lived his entire life in the Yakima Valley and graduated from Eisenhower High School in 1978. He was quite the Casanova and enjoyed driving his classic muscle cars. Shortly after high school he met the love of his life, Lori Schrader, and in 1982 their son Eric, Benji's pride and joy, was born. The 32 years Benji & Lori had together served as a wonderful example to fight for who you loved and to always keep working at it.
Benji was an excellent craftsman and excelled at anything he put his hands on. Whether it was working at Wilson's Electric, Black Ice Paving, Mike's Body Shop or the Selah School District, he always left his mark. Not just in his craftsmanship but also in the hearts of those he worked with. Then back in the early '90s he started "Benji's Custom Tile" and with great pleasure was later joined by his son Eric.
Benji's specialty was making lifelong friends. I don't think I have ever met anyone who had so many friends from all periods of his life who have remained bonded through his entire life. He even managed to intertwine all of them together one way or another.
Benji loved life and lived it "his" way with no regrets. He enjoyed spending time with family and friends, the outdoors, fishing, hunting and barbecues, owning classic muscle cars (with the latest of his collection being his 1967 Camaro), and he enjoyed the NASCAR races. He had a love for animals and especially his loyal four legged (dog) children. Being the social people person he was Benji enjoyed dining out with friends, visiting various casinos, and playing poker. He liked to gamble, however his gambling wasn't only at the casinos as he was always willing to believe in others and take a chance on them when others wouldn't.
The last 72 hours of his life have been a whirlwind of emotions but mostly gratitude: Benji touched hundreds if not thousands. He was definitely stubborn and ornery at times, yet one of the most loving and kind people one could know. He would give you the shirt off his back even if it were his only one. He loved his family and he loved his friends as if they were family. This is how he wanted to leave this earth, quickly and not lingering from cancer.
Benji leaves behind his wife Lori (Schrader) Burton, his son Eric Burton, his brother Robbie Burton & sister-in-law Debbie Frye, nephews Robbie Joseph Burton and David Johnson. Benji had a soft spot for kids and effortlessly served as surrogate father to several, bringing them into his home and treating them as if they were his own. He will be greatly missed by his cousins, Aunt Penny & Gene Delp, Aunt Honey & Jack Klickner, and his closest cousin Mike (Carolyn) Beaudry who was always there for him.
Benji was preceded in death by his parents Arnold "Jay" and Vivian Burton, grandparents, his nephew Justin Burton, as well as several aunts, uncles, & cousins.
You will be missed greatly my friend!
Viewing Thursday, December 26, and Friday, December 27, 2013, from 3 PM to 7 PM at Shaw & Sons Funeral Directors, 201 N. 2nd St., Yakima. Funeral service Saturday, December 28, 2013 at 11:00 AM also at Shaw & Sons, concluding at Terrace Heights Memorial Park. Celebration of Life & Going Home party to follow at Terrace Heights Grange, 3701 West Birchfield Rd.


Click here to see Benji's last Profile entry.