Eisenhower High School


Class Of 1978
In Memory
Stacy Boyd (Ray) VIEW PROFILE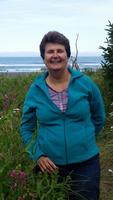 Hello classmates,
Again, I'm sorry to say that we lost another classmate, Stacy Ray Boyd. Please add any memories you have of Stacy please add them. Here is a copy of her obituary.
Stacy Ann Ray, 59, was born in Yakima on April 28, 1960, to Jeanette Glaspey (Fetzer) and Frank Glaspey. She was called to heaven on February 16, 2020, surrounded by her family after a short battle with cancer.
Stacy lived in the Yakima area her entire life and was one of six kids born to Jeanette Glaspey. She attended Eisenhower High School where she met the love of her life, Donald Ray. Stacy and Don were married for over 40 years until her death. They had a wonderful life together.
She held various jobs throughout her life bringing an unparalleled passion for her work. Stacy worked at Photo Haus as a store manager for several years, then took a manager's position with the family businesses Coco's and Meadowlands Manufactured Estates, and for approximately the last 10 years she worked as the kitchen manager at Garfield Elementary. She very much enjoyed her coworkers and would often tell stories about the many students she saw each day.
Stacy enjoyed spending time with her family and friends, her pets, taking road trips, and her home. She had a compassionate nature and found joy in helping people and animals.
She was loved dearly by her husband Don and her daughter Stephanie Ray. She was the center of our lives and will be missed very much.
Stacy is survived by her husband and daughter, her sisters Dawn Marie (Budd) Donelson, Belinda Boyd, and Debbie (Kevin) Marshall; brothers Frank (Janie) Glaspey and Dale (Marillee) Glaspey, mother-in-law Betty Ray, and numerous cousins, nieces, and nephews.
She was preceded in death by her parents Frank and Jeanette Glaspey, and her brothers Larry, Mark, and Kelly Boyd.
Special thank you to Wiley Union Church, Pastor Terry Dinsmore, Garfield Elementary, Thad and Diane Bell, and family and friends for your love and support.
Click here to see Stacy's last Profile entry.