Eisenhower High School


Class Of 1978
In Memory
Darin Vibbert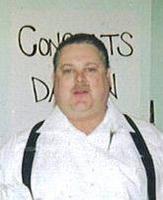 Hello again Classmates,
Unfortunately, my last message of the passing of Steve Martin brought in a few new messages from classmates of others who have passed on as well. Darin Vibbert passed away recently. This one is a hard one for me, and Darin was one of my own from the Whitney Elementary clan. My memories of Darin go back to first grade. He was always a happy, smiling kid, who loved all sports, especially football. I have memories of swimming with Darin, Bob Gallagher, and Jackie Webster listening to Alice Cooper "School's Out" blaring from his transistor radio! He was an all-around nice person. Please add your memories of Darin too. Again, family members appreciate our memories. Here's his obituary I found from the Yakima Herald.
Darin Ross Vibbert age 60, died peacefully on Feb. 25, 2020 in Seattle, WA at the University of Washington Medical Center surrounded by family. He was born to Ladd and Myrl Vibbert on October 6, 1959 at Memorial Hospital in Yakima, WA and was a lifelong resident of the Yakima Valley. Growing up Darin always had a smile on his face and loved playing football and wrestling as an Eisenhower Cadet. Darin was an avid fan of the Seahawks. He also belonged to a group of friends, CBR (Christmas Break Recreation), which loaded up their old station wagon "Wally" and headed to Rimrock Lake where they had a cabin and would just be guys.
He will always be remembered as a loving hardworking man, with the most unforgettable laugh that was not only contagious but a laugh that his loved ones will always remember. He loved being a mechanic but also dabbled in plumbing, electrical, and construction. You could say he was a jack of all trades. He also loved spending time outdoors running, barbequing, and always keeping busy. He took pride in himself in his work and taking care of his children as a single father. On Jan. 29, 2005, he married Janie Garcia making their home in Sunnyside.
He is survived by his wife Juana (Janie) Garcia-Vibbert, his daughters Nichole Leigh Ramirez, Heather Renee Burns and son in law Butch Burns, his son Ross James Vibbert, sister and brother in law Debra Jean and James McCracken, brother Ricky Lee Vibbert, his grandchildren Gina, Santana and Emiliano Ramirez and Kayla Vibbert and one great-granddaughter Olivia Abelia Almaguer.
Also survived by numerous brothers and sister-in-laws, nieces, and nephews. He is preceded in death by both his parents Ladd and Myrl Vibbert.